Uncategorized
Daily Words of Wisdom.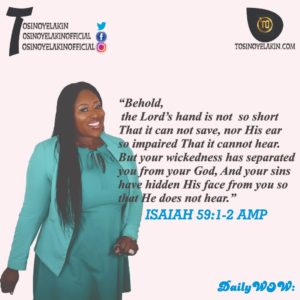 Hello! Happy Tuesday. Here's your Daily W.O.W …
If I regard iniquity in my heart, the Lord will not hear me. When we prayerfully come to Yahweh with a faith-filled heart, we also have to come in His righteousness. The righteousness we can only obtain by being cleansed by the blood of Yeshua. No one is righteous except they be continually washed by the blood.
Let not sin put a divide between you and your answered prayers. Confess it and ask to be clothed in His righteousness by Yeshua's blood and then enter the holy of holies confidently to behold the beauty of His face.
Thank you Father for the cleansing and redeeming power of the blood of Jesus. Hallelujah!!! #Selah
Have a great day. Agape ❤️