Uncategorized
Daily Words of Wisdom.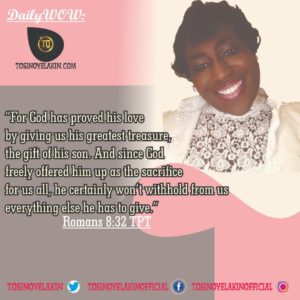 Hello there! Happy Monday. Here's your Daily W.O.W …
There is nothing that is within Father's power to give that He will not give to you. Think about it, He did not spare His only begotten son, Yeshua the Messiah who is His greatest treasure. Even though it couldn't have been an easy decision for Him, but for His great love and His desire for us to be reunited with Him, He did it. So why do you find it difficult to believe that Yahweh will give you anything and everything He has according to His will? No good thing He withholds from those who love Him. So come to Him with a faith-filled heart and know that His blessings will be released, in His time. May Yahweh help us all.
Do have a joyful day. Agape ❤️.