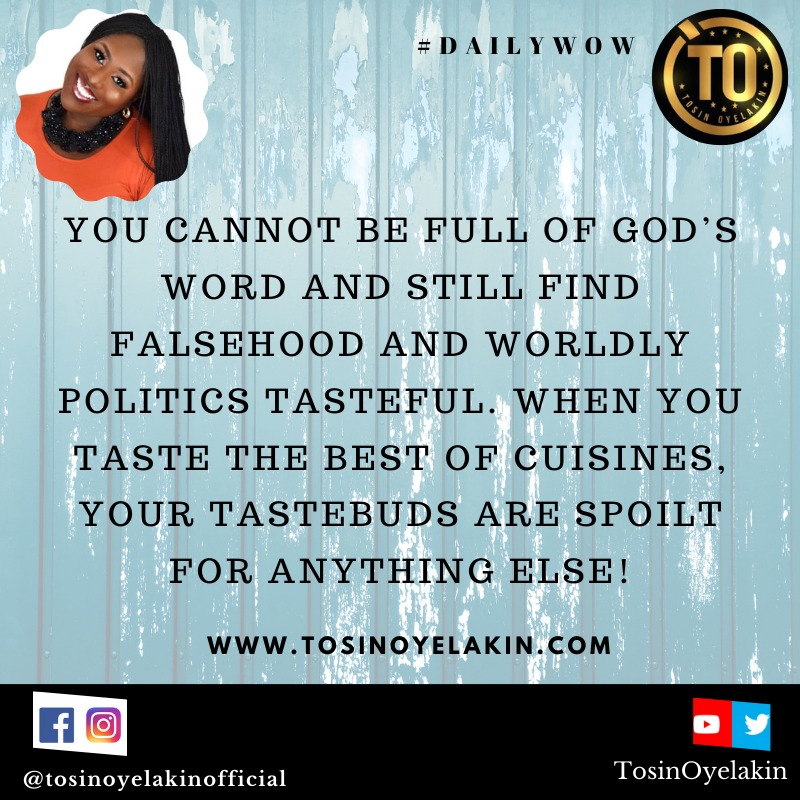 Uncategorized
The Word Refined Taste
There are different manifestations of those who claim to be born again, Spirit-filled children of God in these days. You then wonder, if there are so many lights, why isn't the world feeling our presence more than they are right now?

Why does these many lights seem to have blended in with the darkness? We should starkly stand out in the world. Uncompromising in our stances based on the word of God which should not only dwell in us richly, but be our standards.

You cannot be full of God's word and still find falsehood and worldly politics tasteful. When you taste the best of cuisines, your tastebuds are spoilt for anything else!

When you have dined with the King and been on the best diet for so long, how can you truly enjoy anything short of royal meals? We Christians are royalty. We have been placed on the best diet.

This should, therefore, manifest our spiritual growth in the physical realm. It should also set us apart in behaviour, speech and our way of thinking. The more you eat of the royal cuisine, the less you find worldly cuisine tempting.

Let us not be hearers of the word only. If anyone does business with you as a child of God, let them feel the positive difference.

If they work with you, are your neighbours, acquaintances, friends, family or foes, let the testimonies that preceed and proceed from you show that you dine with the King. Let the positivity of the Word you eat daily manifest in your ways!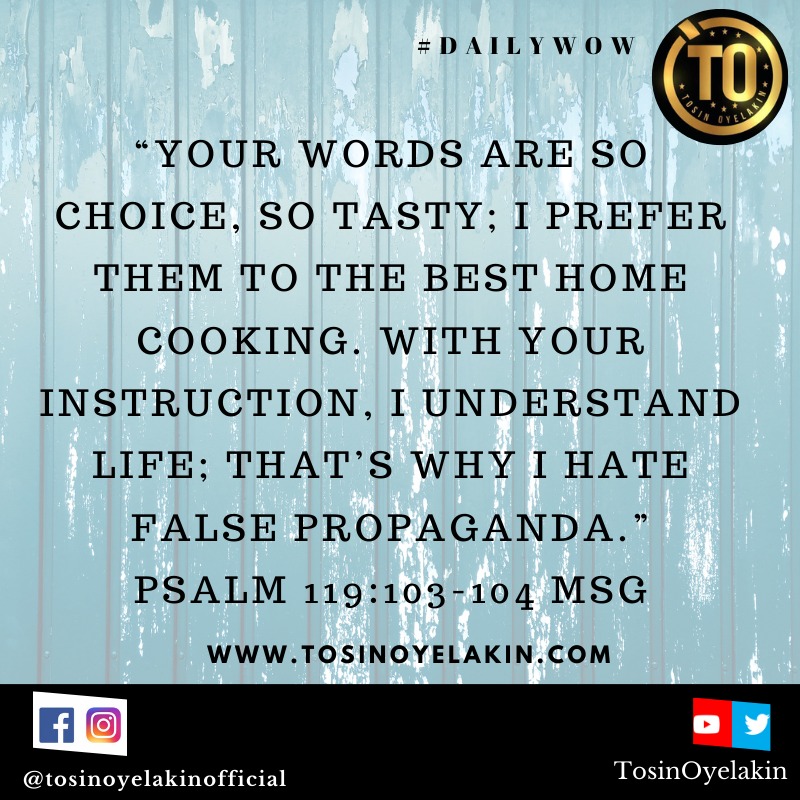 Prayer:
Father, thank You for teaching us Your ways through Your word. Your word is food to us and gives us life.

Help us even in our weaknesses, never to eat anything else the world places in front of us, but your Word. As we grow a refined taste, we will fully manifest Your ways against worldly ways in Yeshua's mighty name. #Selah.

Have a blessed day and stay safe under the blood ? Agape ❤️
© Tosin Oyelakin 2020