Uncategorized
Immeasurable Wealth
One of Yahweh's priority for His children, even above blessing you with material wealth or abundance, is to establish His Kingdom in their lives. While material wealth and abundance are part of His plans for us, they will always come along with His Kingdom.

That's what Jesus Christ came to do – establish God's kingdom in those who will accept Him. The kingdom of God is righteousness, peace and joy in the Holy Spirit. Hope of eternity and victory here on earth. Having these paves the way for other things to follow.

God wants you to have an abundance of peace, joy and hope. Peace in your heart makes you live long with a sound mind, with joy you can draw from the wells os salvation and deliverance, and your hope gives you something great to always look forward to because hope makes not ashamed!

Joy, peace and hope are divine blessings from God given by the power of the Holy Spirit. You operate in these three, you have everything! These are immeasurable wealth, the best gifts from God.

With these, you can get any form of material wealth you desire. That's why the enemy's strategy is steal your joy, kill your peace and destroy any hope you have left in you. Don't allow him.

Do everything you can to seek for these blessings through the power of the Holy Spirit who lives in you. You can have it all, you just need to know what to pursue.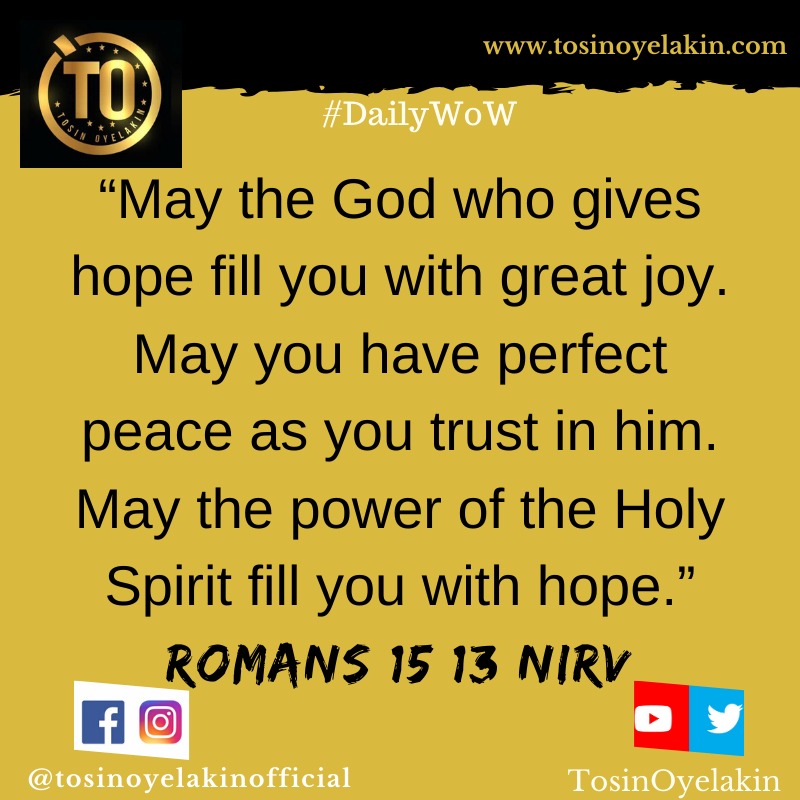 Prayer:
Father, thank You for guiding us in paths that lead us to Everything our hearts desire. Thank you for establishing Your kingdom in our hearts the Yeshua's work and the work of the Holy Spirit.

Please give us understanding and wisdom to pursue after the right things in which everything else we desire is embedded.

As we do this Lord, Grant us favour that we may reap the fruit thereof in Yeshua's mighty name. #Selah

Have a joyful day and stay safe under the blood ?. Agape ❤️.
© Tosin Oyelakin 2020