Uncategorized
Daily Words of Wisdom.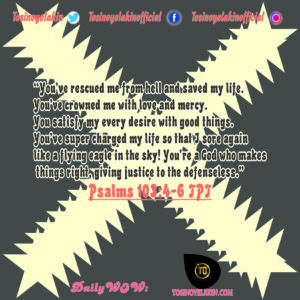 Hello and happy Tuesday. Your daily W.O.W. …
All praise and worship to the immortal, the invincible, the only wise God who does great and mighty things in our lives. He blesses us with many blessings. He did not withhold salvation through His only begotten son, Yeshua. He glorifies us by giving us love and mercy as crowns, every desire of our hearts, He satisfies with good things, He strengthens us and causes us to soar to heights we never dreamed we would be able to attain. He fights our battles and gets us justice from our oppressors. Who is like unto You oh Lord!
It is good to take time to remember Yahweh's faithfulness and give Him praise everyday. It's by His mercies that we are not consumed. Do worship Him. Hallelujah! #Selah
Have a great day. Agape ❤️